EOG Resources
From Wikimarcellus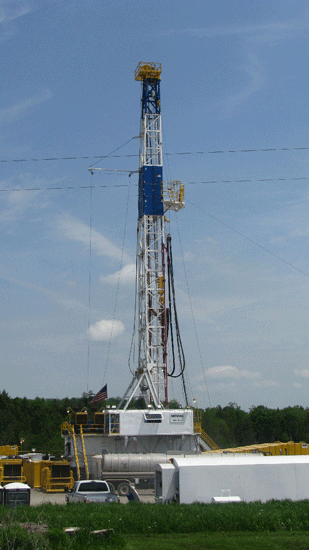 Houston, Texas-based EOG Resources,Inc. (NYSE: EOG) is a large, independent oil and gas company. It separated from Enron Oil & Gas in 1999. After divesting 50,000 acres in late 2010, EOG's Marcellus shale leasehold consisted of 170,000 net acres primarily located in northwestern Pennsylvania.
In September, 2008, the company was reported to be actively drilling in the Susquehanna Basin of Pennsylvania. It paid a fine to the Susquehanna River Basin Commission (SRBC) of $450,000 for not complying with limits on water withdrawal for wells in the Basin.
An October, 2008 report found EOG having recorded 111 leases in Bradford County, Pennsylvania during 2008.
A later October report stated that EOG has active locations in both Bradford and Elk Counties in Pennsylvania.
In November, 2008 it was reported that EOG was involved in a joint veture with National Fuel through a subsidiary, Seneca Energy, to develop acreage in Pennsylvania where the latter owns drilling rights about 80 miles northeast of Pittsburgh. The venture's first Marcellus well produced one million cubic feet of gas per day at first, but then production leveled out to around 400,000 cubic feet per day.
A January, 2009 report indicated that the joint venture has drilled five vertical wells, and it was in the process of drilling its seventh horizontal well. The decline in production from the above mentioned first well was probably due to an ineffective frac. Additional results that were announced include: Well 3 - 400 Mcf/d from a 1,200-ft horizontal leg in Marcellus; and, Well 4 - 1.4 MMcf/d from a 3,500-ft horizontal section. Two other wells were awaiting hydro-fracturing at that time.
A February, 2009 report stated that three wells were awaiting hydro-fracturing and another one is being drilled.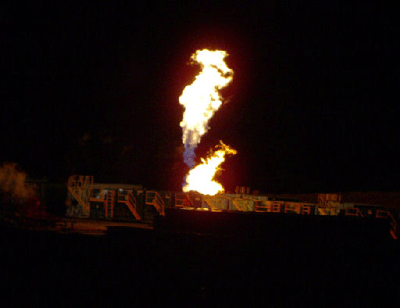 A report came in mid-April, 2009 that EOG had applied to the SRBC to withdraw water from various branches of the Sinnemahoning Creek at locations in and around Weedville in rural Elk County, PA (just north of Clearfield Co.) The local Jay Township Supervisors wrote a letter to the Commission indicating that the locations selected, including ones near the Redwood Bridge, fire hall, senior center, and ball field, were quite unsatisfactory. Evidently, EOG had selected these locations via satellite imagery without any actual reference to local considerations or concerns.
A May, 2009 company update indicated that a EOG-Seneca Marcellus shale well had been drilled that produced on the average more than 3.0 Mmcf/d for 7 days during initial flow-testing. The EOG-Seneca joint venture planned to drill 8-10 Marcellus wells during 2009.
A November, 2009 report found EOG fracing a Marcellus shale well just off St. Route 322 in Clearfield County's Boggs Township. No further details were available.
In January, 2010 EOG was sighted applying for a drilling permit on Fox Township property in Elk County, PA. A Township Supervisor raised an objection to the site on the basis that it was too close to Lost Run, a creek which feeds into the Township watershed and dam. EOG agreed to relocate the well.
There was a June, 2010 news account of a rather spectacular blowout of an EOG well outside Penfield in Lawrence Township, about 10 miles north of Interstate 80, in Clearfied Co., PA It took 16 hours to get under control. The company had employed Forbes Energy Services to complete the well, clean it out, and connect it up to a pipeline when the accident occurred. Work had been temporarily halted by PDEP in order to study what had caused the blowout. The well itself appeared undamaged despite the release of around 35,000 gallons of flowback water. The spill had largely been contained on the site.
The same June article as above mentioned that EOG was developing dozens of wells in the area. Some of these were on lands in Moshannon State Forest which surrounds the Punxsutawney Hunting Club where the well blowout happened.
According to a November, 2010 press account, EOG sold 50,000 acres, mostly in Bradford County to Newfield Exploration Co. The sale included 5 producing wells with production amounting to 7 Mmcf/d. The purchase price had been $405 million or roughly $8,100 per acre.
In January, 2011 EOG was reported having sold its Tioga Co., PA acreage to joint venture partner, Seneca Energy. For more information about the transaction, see the Seneca Energy wiki page.
EOG's CEO is Mark G. Papa.
Loren Leiker is Senior Executive Vice President, Exploration.
Gary Thomas is Senior Executive Vice President, Operations.
Tim Driggers is Vice President and CFO.
Gary L. Smith is EOG's Vice President & General Manager, Pittsburgh, PA.
Maire Baldwin is Vice President of Investor Relations.
Elizabeth Ivers is Director of Investor and Public Relations for EOG Resources.
Tom Horton is a landman in Pennsylvania and New York. He is a spokesman for EOG in Elk County, PA.