Dawson Geophysical Co
From Wikimarcellus
Midland, Texas-based Dawson Geophysical Co. (NASDAQ GS: DWSN) is the largest provider of 2D and 3D seismic data acquisition services in the U.S.
During the fall of 2008, it had pending applications before county officials to do seismic testing in the towns of Conklin, Binghamton and Kirkwood in Broome County, New York.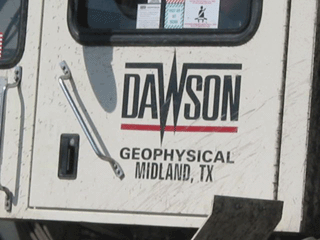 Dawson Geophysical Co.
Courtesy of Peter Comly,
- Clodhopper Farm
In December, 2008 the company was reported doing seismic testing in the Scranton, Pennsylvania area. According to the thedailyreview.com, the procedure followed went like this:
A seven- to eight-person crew runs several miles of data lines that are connected to vibration sensors, which are strategically placed along the line by using a global positioning system. Vibrations are then sent into the ground by "thumper trucks" that drive along the route and the sensors record impulses that return. After the data are gathered, they are sent to Dawson's data processing center in Midland to be interpreted by analysts, who produce three-dimensional seismic data for major and independent oil and gas companies.

A convoy of Dawson vibroseis or thumper trucks
disappears down a country road near Springville, PA.

Courtesy of Peter Comly,

Clodhopper Farm

The data provide a blueprint of the subsurface geology, diminishing the probability of marginal and dry well locations, according to Dawson's Web site.
A January, 2009 report stated that Dawson planned to conduct seismic testing in several Pennsylvania Counties including Lackawanna (Clarks Summit and downtown Scranton), Luzerne, Pike, Susquehanna, Wayne and Wyoming.
The end of April, 2009 found Dawson conducting a seismic study along State rount 309 in Luzerne County, PA near Hazleton. The same report quoted a Dawson Regional Manager indicating that extensive seismic mapping had already been conduced in Susquehanna County which is considered to be a Marcellus shale sweet spot.
Another report in June, 2009 was made of Dawson conducting seismic via helicopter in Wetzel County, in northern West Virginia, for Chesapeake Energy.
The company maintains seismic data processing centers in Houston and Midland, Texas as well as Oklahoma City, Oklahoma.
Dawson's home office is in Midland, Texas.
Stephen Jumper is Dawson Geophysical's President and CEO.
Christina Hagan is Executive Vice President and CFO.
Douglas Holmes is a Permit Agent for the company.
Matthew Leist is a Regional Manager at Dawson's Michigan office.