Magnum Hunter Resources Corp
From Wikimarcellus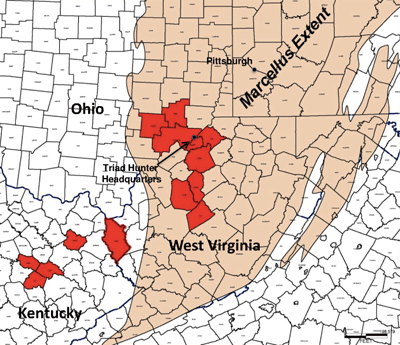 Houston, Texas-based
Magnum Hunter Resources Corp
(NYSE Amex: MHR) is an oil and gas exploration company. The company's Appalachian leasehold consists of almost 95,000 acres in
Ohio
,
West Virginia
and Kentucky. As of March, 2011, 56,595 net acres were in the
Marcellus shale
. It operated over 2,000 wells in the Appalachian Basin and two thirds were oil wells. Daily production amounted to approximately 1,400 BOE. It also operated the
Eureka Hunter Pipeline
which consisted of 182 miles of pipeline and right-of-way in central and northern West Virginia.
At the end of October, 2009 a news account appeared about the company agreeing to purchase all of the oil and gas exploration and production assets of Triad Energy of Reno, Ohio (not the same as Triad Energy of Texas).
Triad had been an E & P company with exclusive focus on the Appalachian region especially in Kentucky, Ohio, and West Virginia. Their oil and gas interests consisted of roughly 88,500 net acres, 75% held by production. 47,000 net acres of this total are underlain by Marcellus shale formation.
At the end of January, 2010 more details emerged about this deal when it was approved by the U.S. Bankruptcy Court for the Southern District of Ohio, Eastern Division who oversaw Triad Energy Corp.'s Plan of Reorganization. The acquisition by Magnum Hunter of Triad covered the latter's 2,000 operating wells as well as the aforementioned acreage. The deal was set to close on or before February 15, 2010.
In early February, 2010 Magnum Hunter announced that it planned to drill two horizontal Marcellus shale wells in Tyler County, WV located about half way on a straight line between Marietta, OH and Fairmont, WV. It also was to spend $9 million upgrading and completing an in-state Eureka Pipeline.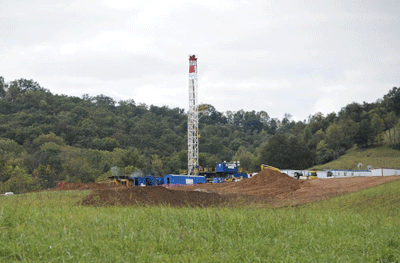 In September, 2010, a news item appeared providing greater detail about the Tyler Co. project. The pipeline, now dubbed the Eureka Hunter Pipeline, was to have a western terminus on the Roger and Sandra Weese farm located near Jefferson Run Road in Tyler Co. There, Magnum Hunter had completed two horizontal wells, each drilled to a total depth of 6,200 feet, and with 3,500 foot laterals, on the Weese's 220-acre tract. These were to go online to sales in November, 2010. As part of terms agreed upon with the Weeses, Magnum was also to build access roads, a culvert system and a 3 acre lake on their property.
Magnum Hunter had formed a joint venture (JV) with Colorado-based DCP Midstream to deveop the Eureka Hunter Pipeline. The JV was to be known as Triad Hunter LLC. This pipeline was to be completed in two sections:
114 miles passing through Doddridge, Harrison, Lewis, Marion, Monongalia, Pleasants, Ritchie, Tyler, and Wetzel counties.
68 miles traversing central West Virginia.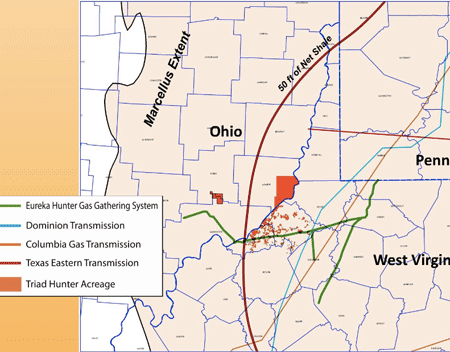 The total length of the 20 inch pipeline was to be 182 miles, and it was to be placed 4-5 feet underground. Scheduled for completion at the end of 2011, the line was to represent a capital investment of between $40 and $55 million. Apex Pipeline Services of Winfield, WV was contractor on the project and had about 100 employees working on it during the fall of 2010.
In December, 2010, a press release appeared announcing that Magnum Hunter had acquired, through its wholly-owned subsidiary, Triad Hunter, LLC, the operating interest in a portfolio of leased land in Wetzel and Lewis counties from PostRock Energy for $39.75 million. 50% of the total, or $19.875 million had been paid in cash and the balance with 3.2 million in newly-issued restricted shares of Magnum Hunter Corp. stock. The property was referred to as the Marcellus Assets. The Wetzel County land was valued at $28 million and the Lewis Co. acreage at $11.75 million. The deal was to close in January, 2011. 2,336 net acres were in Wetzel Co. and 6,316 in Lewis Co. (Total: 8,652 net acres). The sale included 8 proved and developed producing wells, 6 developed wells shut-in, 2 wells behind pipe, and 15 proved yet undeveloped locations. The estimated probable reserves of this acreage was 165.4 Bcfe with 905 Mcfe/d of current production. The company planned to begin drilling on this property by early 2011.
At the end of 2010, a second December press release announced the acquisition of NGAS Resources in exchange for $98 million is stock and assumed liabilities. At the time, NGAS controlled over 330,000 acres in the southern Appalachian Basin--most of it undeveloped and prospective for horizontal drilling in the Huron/Devonian shale. NGAS owned interests in over 1360 oil and gas wells.
In April, 2011 Magnum announced another West Virginia acquisition--the 50% non-operating interest in a joint venture that was leasing a contiguous block of 2,225 prospective acres in Wetzel County, WV. This was essentially the same acreage in which the operating interest had been acquired earlier in December, 2010 from PostRock Energy. The purchase price had been $20 million cash. There were 7 producing Marcellus wells on the property, and a number of additional drilling locations had been identified. The acreage was in close proximity to the Eureka Hunter pipeline system and planned extensions of it. While some of the leases owned by the joint venture were soon to expire, Magnum expected to be able to extend its drilling program so that the majority of leases could be held by production.
Since the operating interest had earlier been acquired, Magnum had drilled two horizontal wells through its subsidiary, Triad Hunter, in partnership with Stone Energy. These were the Lantz Mills Unit 2-#2H and Lantz Mills Unit 3-#5H with 4,800 and 5,300 foot laterals, respectively. The company owned a 50% interest in each well. Both were scheduled to be fracture stimulated in May, 2011. As of April, 2011 Triad Hunter had also drilled top holes of three new 100%-owned horizontal wells on the property that were expected to have 5,700 foot laterals. These were to begin fracture stimulation in June, 2011.
Gary C. Evans is Chairman and CEO of Magnum Hunter Resources Corp.
M. Bradley Davis is Magnum Hunter's Senior Vice President of Capital Markets.
Jim Denny is Triad Hunter LLC's COO.