Continental Resources
From Wikimarcellus
Enid, Oklahoma-based Continental Resources (NYSE: CLR) is an oil and gas exploration company with operations concentrated in the Rocky Mountain area and in the State of Oklahoma. It is also active in Michigan's Trenton-Black River play. By year-end 2008, the company was reporting that its net prospective Trenton-Black River (TBR) leasehold in Michigan amounted to over 52,000 acres (65,000+ gross). It had 40 square miles of 3-D seismic covering this acreage.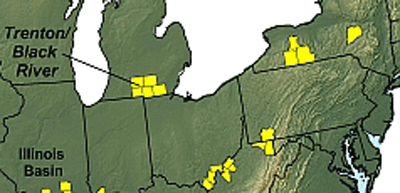 Continental's Appalachian Basin Leasehold
Map courtesy of
Continental Resources Inc.
It was reported in August, 2008 that Continental had drilled several successful oil wells to the Trenton-Black River formation on leases roughly 30 miles south-southwest of the City of Jackson in Hillsdale County, Michigan. One of these wells was located on the McArthur farm off Culbert Road, north of Pittsford. The Hillsdale County field is the largest oil field in Michigan. It is considered to be an extension of the Albion-Scipio field.
Other Continental wells in the area include the Anspaugh 1-1 and Wessel 1-6, both drilled in February, 2008, and the Boardman 1-1 and Wessel 26-A, completed in June, 2008. A sixth well was still being flow-tested at the time of the report, and may be completed at a later date. All of the wells were off Pittsford and Culbert Roads.
Continental believed these 6 wells were capable of producing up to 5,000 barrels of oil per day, yet these were limited by Michigan regulations to producing only 110 bbl/d (now 200 bbl/d). According to the company web site, these wells produced 550 gross bbl/d during December, 2008. 3 of the 6 completed wells were capable of producing in excess of the 200 bbl/d regulated flow-rate. A gathering pipeline for these wells was in the process of being built.
3-D seismic testing was underway for about 20 square miles of this field during the summer of 2008. The company planned to shoot an additional 14 square miles of 3-D seismic during 2010.
After a drilling hiatus during 2009 in Michigan, Continental resumed drilling there in 2010 with the completion of the Abraham 1-6 well. It owned an 83% working interest in it. Mentioned in a March, 2010 press release, it was in the process of being flow-tested at the regulated limit of 200 bbl/d. 37 Mcf of natural gas was being produced through a 12/64ths choke and 300 psi flowing tubing pressure. The company had also drilled a second well, the Gordon 1-36 HD, that was awaiting fracture stimulation in May, 2010. It was producing 50 bbl/d and 100 Mcf through a 7/64ths choke at 370 psi flowing tubing pressure. This horizontal well had a 1,360-foot lateral in the Van Wert zone of the TBR.
Continental was also developing a large leasehold position in unconventional shale plays including the Marcellus and Huron shales. During 2008 the company added roughly 325,000 net acres to its leased acreage in shales. Its total shale acreage was 1 million acres.
Harold Hamm is Continental's CEO and founder.
Richard Straeter is President of Continental Resources' Eastern Division.